UiB-GEO boarded ACC MOSBY on 13th of August, heading out from Tromsø to recover and redeploy three Ocean Bottom Seismometers (OBS). This equipment measures earthquakes that occur deep below the ocean floor, and help to measure and monitor risks from natural hazards. 
During Summer 2018, three K.U.M. broadband OBSs were deployed in the Fram Strait, close to the mid-Atlantic Ridge, to monitor the continuous earthquake activity of the region as a part of the INTAROS project.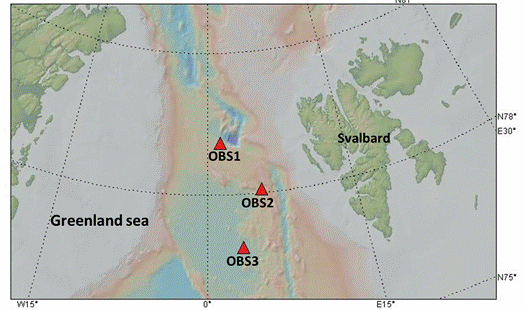 OBS deployment locations in summer 2018.
The instruments have been sitting on the seabed for one year and the recovery cruise set off on schedule. During the first days of the cruise, the team will focus on recovering the instruments and then all three OBSs will be redeployed in Storfjorden (near Svalbard) in cooperation with the EPOS-N project (http://epos-no.org/).
For more news about the INTAROS Summer Fieldwork Season 2019, stay tuned to our website and social media.
You can check out all the observing sites assessed by INTAROS in this interactive map.