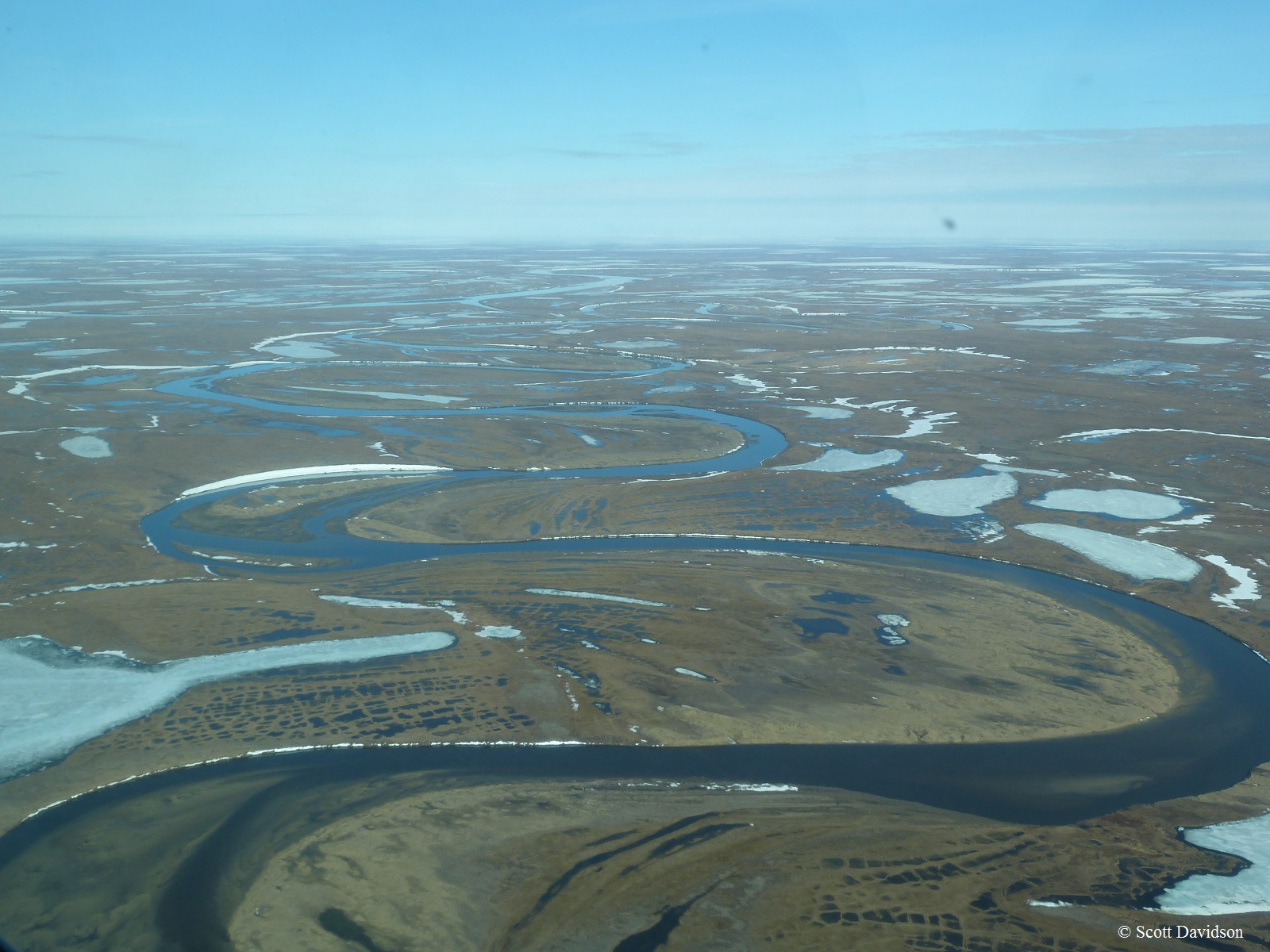 Scott Davidson, from the University of Sheffield realises his childhood dream of going to the Arctic. In this piece Scott tells us of the ups and downs of doing fieldwork on vegetation methane emissions in the Alaskan Arctic tundra, where he spent four months in 2014.
I arrived in Barrow (now known as Utqiaġvik), Alaska in May 2014 to undertake field research for my PhD based at the University of Sheffield, UK. Barrow is located at approximately 71 degrees north of latitude (500 km above the Arctic Circle), bordering the Arctic Ocean. When I arrived I had a vague idea of what to expect but this was completely thrown out of the window as soon as I stepped off the plane.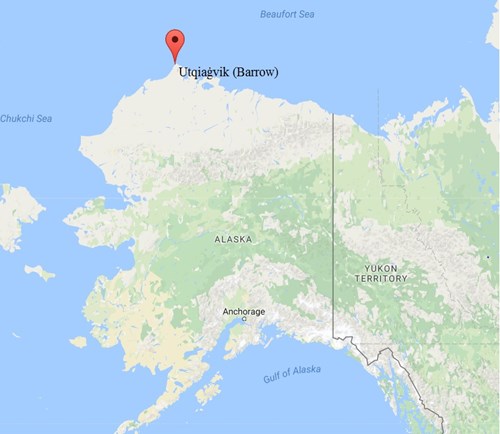 Utqiaġvik (Barrow) is the most northerly city in the United States (population approx. 4200)
A childhood dream
Throughout my childhood the Arctic always completely fascinated me and the chance to go to Alaska for 4 months was an incredible opportunity. My PhD looks at the role of vegetation in influencing methane emissions in Arctic tundra ecosystems across the North Slope of Alaska. This involved taking plot level methane measurements, vegetation and environmental measurements and field spectroscopy measurements (measuring the spectral signatures of different arctic tundra vegetation types).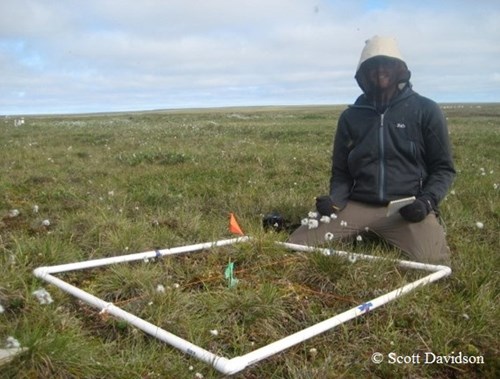 Marking out the measurement plots
This type of research is more important than ever, with the Arctic warming at near double the global average. Reductions in annual sea ice extent and increasing air temperatures are causing permafrost thaw across the Arctic at an unprecedented rate. This thawing has potential to release a huge amount of carbon to the atmosphere, both as carbon dioxide and as methane. My work is looking at improving our understanding of what controls methane emissions across different tundra landscapes at the plot scale and incorporating satellite remote sensing to get a sense of what is occurring at larger, landscape scales. This research links to the INTAROS project which in part is looking at greenhouse gas budgets across tundra ecosystems. Published details of this research can be found here and here.
Sleepless nights and singing
Fieldwork this far north is an interesting experience. During the summer months, you experience 24 hours of daylight, something that takes a while to get accustomed to. It can be both a positive and negative phenomenon, whilst giving you more energy, it also provides a feeling of guilt that you aren't working hard enough because it's still light out – even though it may be 3am and you simply just can't sleep….
Another aspect of fieldwork in the Arctic that I misjudged is the isolation. Firstly, it can be really quite lonely sat out on the tundra collecting measurements. I got quite used to the sound of my own singing voice as I pottered around the tundra (this was a two-fold benefit; it kept me amused but also potentially kept bears away… Disney songs were my speciality).
Being resourceful in the Arctic is a must
Secondly, being isolated when conducting fieldwork can be a logistical nightmare. Equipment breaks… regularly! And to be thousands of miles from the nearest retailer or store is frustrating to say the least. My advice for anyone is if you can afford to take a spare, take two spares! We built a lot of the equipment I used for my research from scratch, as well as adapting existing measurement systems. At the time, this was super stressful. I often looked longingly at product catalogues wishing I could just buy what I needed. Yet, looking back, I am extremely proud of the research that was undertaken using equipment that was built and modified by the team. It certainly made the results we collected and subsequent scientific publications produced that much sweeter.
Another exciting part of working in the Arctic was meeting other scientists from across the world. It was a fantastic experience getting to share ideas/problems and to socialise with people from different cultures. This is where the isolation can be a positive, with there definitely being a sense of us all 'being in this together'. One of my favourite memories was attending the Nalukataq or Blanket Toss on the 4th of July, which is a celebration of a hopefully successful spring whaling season.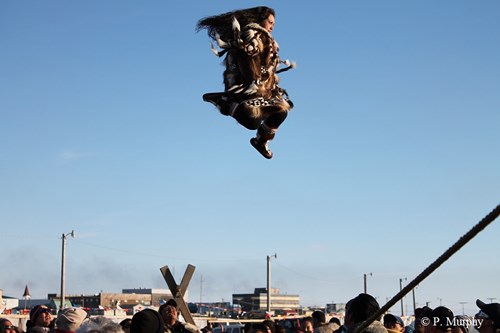 A Nalukataq or blanket toss celebration
The tundra itself is what fascinated me the most. On the ground level, it may not look that exciting, with a lack of any topographical relief for miles upon miles (it's incredible how much I missed trees!). However, up really close and from the sky, tundra turns into a stunning patchwork quilt of different vegetation communities and microtopographical features. The ice wedge polygons in particular create such an interesting land cover that if you looked at my camera roll for the duration of my stay – the majority are just photo after photo of this polygonal landscape.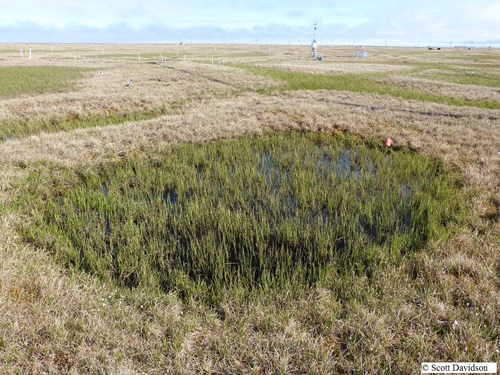 Example of the ice-wedge polygon landscape found across the North Slope of Alaska.
A first sighting of a polar bear
Another fantastic aspect of working in the Arctic is the wildlife. As a self-confessed nature geek, I was excited to see what birds and animals I was going to encounter, and was not disappointed. I saw numerous shorebird species (even getting the chance to radio track some Dunlin chicks across the tundra on my 25th Birthday) and my particular favourite, the four different eider species that nest on the coastal plain. Of course, seeing a snowy owl in the wild is something I will never forget but the most exciting animal that I came upon was most certainly the polar bear. I don't think my heart has ever beat so fast as when I saw the little black nose and white head bob above the surface of the water. We followed the bear as it swam for approximately a mile until it came ashore. The feeling of seeing this magnificent beast up close (but a respectable distance away) will live with me forever. I do however wish to forget the most numerous animal that we came across – the mosquito. During the summer months they swarm around you are you are taking measurements and I regularly saw herds of caribou bolting across the tundra to get away from those tiny, evil devils.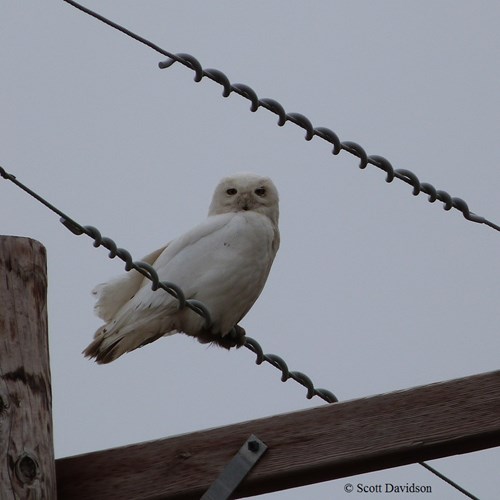 Snowy owls are diurnal and unlike other owls, they take full advantage of the 24 hour daylight and hunt during the day
Overall, my experience of working in the Arctic was hugely rewarding and I would dearly love to go back.
26/04/2017 , Scott Davidson, Sheffield University